A Limoncello Soda is a refreshing way to drink Limoncello on a warm summery day. An alternative to this recipe would be something like a Limoncello Spritz if you had sparkling wine on hand. I think additionally, if you were so inclined you could call this a Limoncello Fizz, as it does bear resemblance in flavor and technique to something like a Gin Fizz.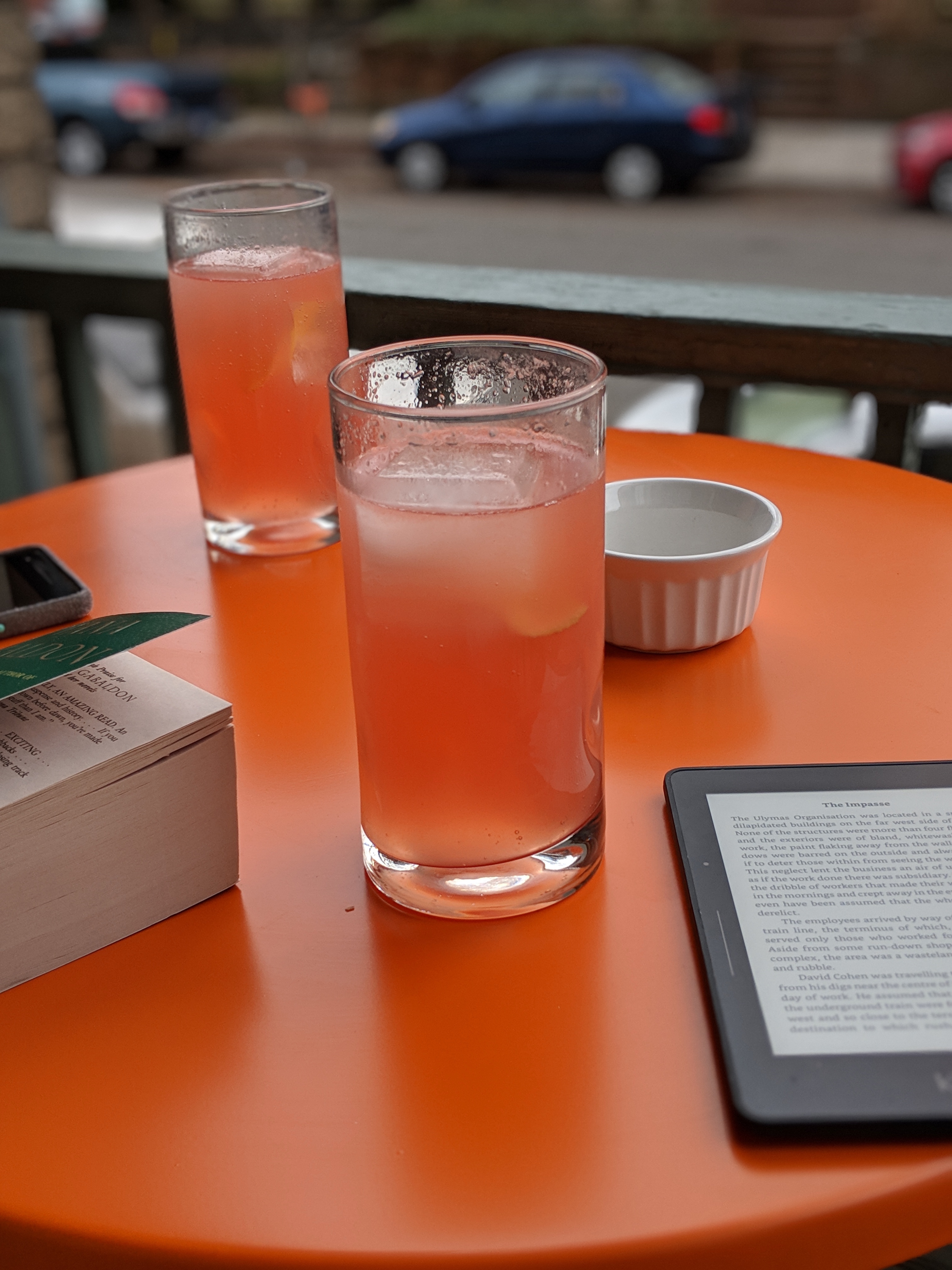 This drink is designed as a before-dinner drink, something you can sip on in the waning daylight hours. I think a nice Limoncello, especially one with cream is a wonderful digestif, but I personally prefer something a bit lighter than a straight liqueur for pre-dinner drinking.
Recipe
Limoncello Soda
1½ oz limoncello
1 oz of lemon juice (about half a lemon)
½ of a lemon
1 tbsp sugar (demerara or turbinado is ideal)
¼ oz orange liqueur
¼ oz sweet vermouth
¼ oz grenadine (home made is ideal)
Club soda
Execution
Add the lemon and sugar to the bottom of your shaker and muddle. Add the remaining ingredients sans soda. Add ice and shake until cold. Double strain into well chilled collins glass and top with soda. Garnish with lemon twist.
If you'd prefer, you can also withhold the grenadine and pour it over a barspoon into the finished drink to get a tequila sunrise effect.
You may also garnish with a lemon wheel, or a maraschino cherry instead of a twist.
Ingredients
This is a great recipe for home-made limoncello. When gifted limoncello, making this cocktail to share with your gift-giver is a great way to show your appreciation for both them and the gift. Substituting the red corn syrup labeled as grenadine in lue of the home made stuff is fine, as it is primarily used for color here, although I highly recommend making your own, it's as easy as buying pomegranate juice and adding sugar.
Additionally, I think if you must, you can omit the orange liqueur and the sweet vermouth. In doing so I would bump up the sugar to 1½ tbsp, and require homemade grenadine (and possibly even bump that up by a barspoon or two) as this drink will be quite tart without them.
Lastly, this drink was made with a specific Limoncello, and they tend to vary pretty wildly in flavor and sweetness from bottle to bottle, especially as there are lots of home made Limoncellos that will have their own unique profile. This recipe can be easily manipulated to fit your bottle of Limoncello. If you want additional sweetness: add more sugar. If you'd like it less sour: remove some lemon juice. If you find it's too bitter or tart: replace muddled lemons with lemon juice.
Finished Drink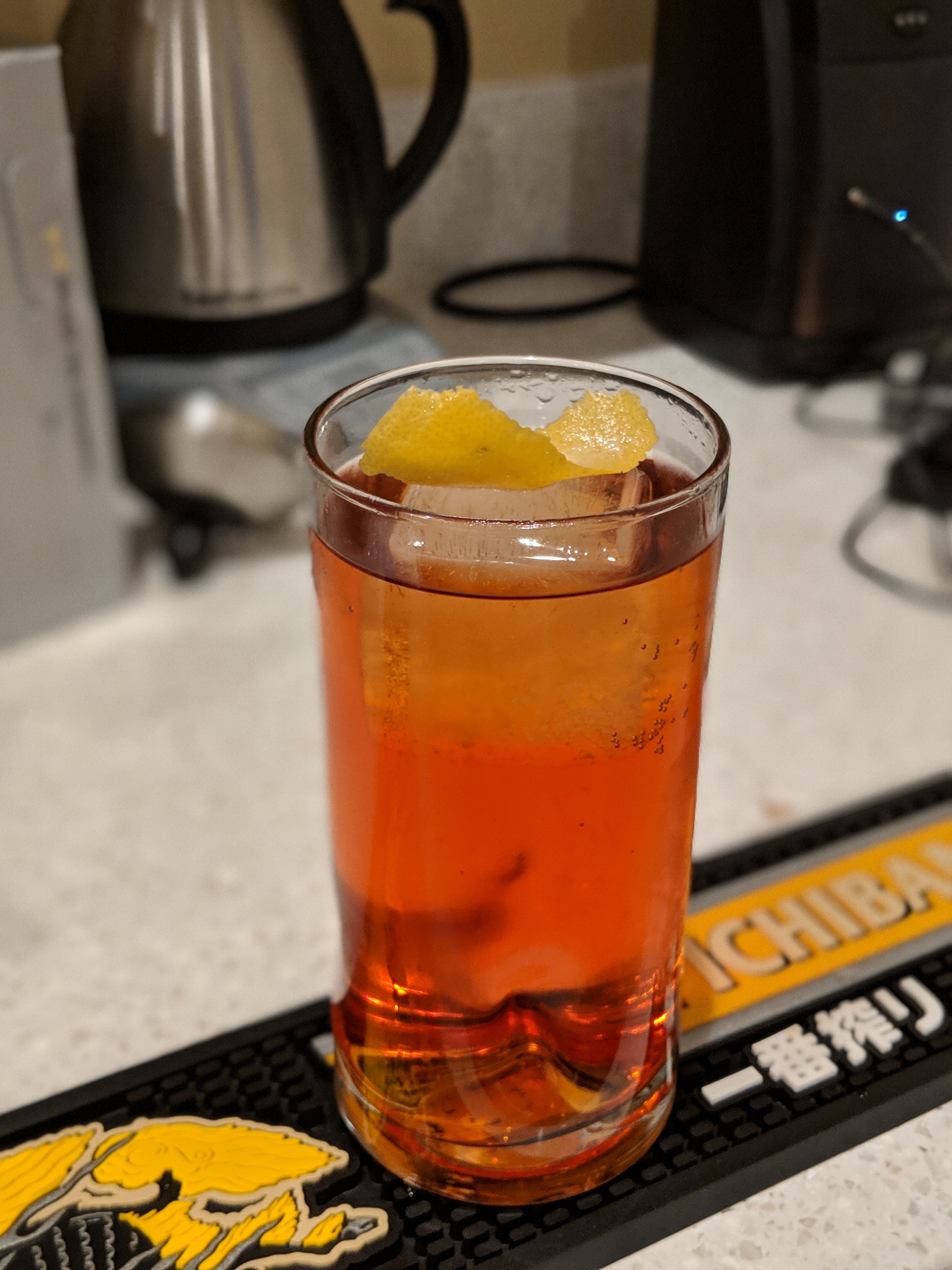 This drink is sweet, tart, and delightfully bright for a warm spring afternoon. It came about after being gifted limoncello, and having a beautiful ~65 degree day here in Richmond where it felt wasteful to not be sitting on our porch with drinks in hand. I originally would have opted for a simple Limoncello Spritz but I, lazily, did not feel like opening the Prosecco we had. Without the wine, simply Limoncello and Soda had very little depth of flavor and the Limoncello I'd been gifted was quite tart. So I set about adding some depth to my Limoncello and Soda combination and evening out some of the flavors.
As always, I looked to use ingredients I already had. I wanted to enjoy this drink as soon as possible (while the weather held) and did not want to create a shopping list and go to the store, wasting the beautiful day we'd been gifted.
In order to add sweetness, I could have opted for a simple syrup, but I did not have any more interesting syrups already made and because this is a citrus based drink, dissolving sugar in the lemon juice was just as easy as adding a syrup. I think when your base spirits do not have significant depth on their own, using a cane suguar over a refined will help add additional flavor to the drink.
Continuing to build the drink I still found it somehwat basic and quite sour. Since the original cocktail I had in mind (Limoncello Spritz) would have had wine, I reached straight for a bottle of vermouth thinking it would expand upon the fruit flavors and add sweetness. I added the orange liqeuer (in my case Cointreau) to continue adding citrus flavor and sweetness, rounding out the cocktail into this current recipe.
After completing the drink though, I found it had taken on a bit of an unappetizing hue from the vermouth, hence the grenadine to give it a nice pastel pink color that matched the weather.
Coming together I think this is a drink that I will definitely be bringing out for summer afternoons outside, and I think it would be great for a party after making a few adjustments, namely: pre-juice the lemons, skip the muddling, and use a sugar syrup.